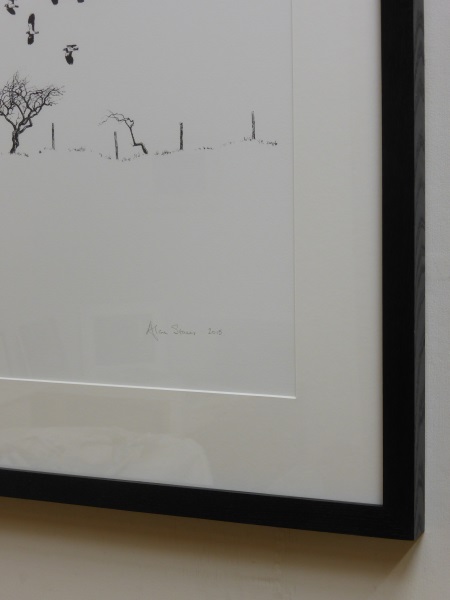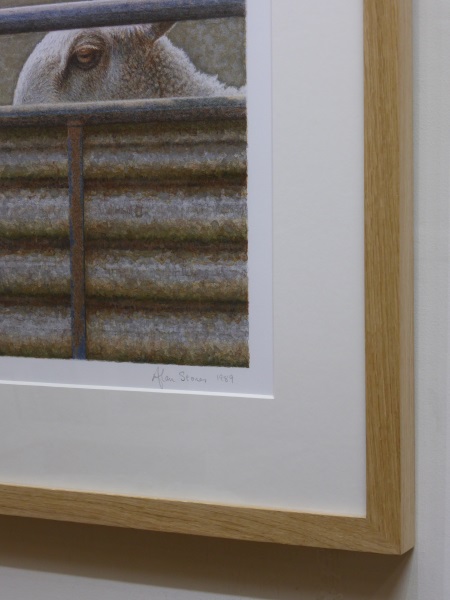 Framed pictures are available for delivery within mainland UK only.
Frame mouldings vary in size as follows:
The larger black and white lithographs (with one framed side longer than 75cm) are in black stained ash moulding which is 33mm deep with a flat 20mm face
The smaller black and white lithographs are in black stained ash and are 21mm deep with a flat 21mm face
The larger colour 1980's 'farming' lithographs (with one side longer than 55mm) are in an oak moulding, cut at the local saw mill, and are 30mm deep with a flat 25mm face
The smaller colour lithographs are in an oak moulding, cut at the local saw mill, and are 25mm deep with a flat 19mm face
Usually my drawings are framed in a light maple moulding and the oils in a black hand-stained ash moulding and without a rebate . . . but they all differ!
Unless otherwise stated the black and white lithographs have an Arqadia Minuet (white) 1.4mm mount (a white which is as near in tone and temperature as possible to the white of the printed paper) and the colour lithographs have a single Arqadia Solid Core Off White 2.2mm mount.   All mounts are acid free with conservation backing board..
In the 1980's, when I made the colour 'Farming' lithographs, I believed that the inks I was using were lightfast.   Over time some of these inks have proved to be fugitive and, after a lot of exposure to light, some colours are fading.   To counteract this I now frame all my colour lithographs from that period with UV glass.   This will keep out almost all ultra violet light (99%) and should resolve the problem. Other than with these prints, the glass I usually use is 2mm float picture glass (not non reflective glass).